Threat of nuclear incidents and radiological incidents in Ukraine
The Directorate for Radiation Protection and Nuclear Safety (DSA) is closely monitoring the situation in Ukraine. Russia has attacked Ukraine and this means that there may be fighting near nuclear facilities in the country.
Elevated levels of radioactivity have been measured around the Chernobyl plant. The current reported levels would not have health consequences. If the wind direction were to turn towards Norway, it would also be possible to measure very low levels of radioactivity here. It would not pose a danger to life, health or the environment.
We are following the situation to assess possible scenarios:
More than 50% of Ukraine's energy supply comes from the country's nuclear power plants. Ukraine has four nuclear power plants with a total of 15 reactors in operation. Demonstrations, unrest, actions or possible evacuation can lead to a partial or complete loss of control of a facility. Both physical attacks and cyber attacks can endanger nuclear safety and serious incidents with subsequent radioactive releases that can spread over large areas cannot be ruled out.
There are large numbers of radioactive sources from industry, medicine and research in Crimea and south-eastern Ukraine. The conflict with Russia has led to the absence of national government control over these sources. Radiation sources or other radioactive material out of control may be stolen, misused, get lost, or smuggled through or out of Ukraine. Such material can have serious radiation consequences where it found or is deliberately used.
The Chernobyl site with its sarcophagus and exclusion zone could be affected by military clashes or military operations that could lead to resuspension of radioactive contamination. This can have consequences in the immediate area.
Incidents resulting in radioactive releases or radiation exposure as a result of war operations in Ukraine are within the nuclear scenarios (link in Norwegian) that form the basis for Norwegian nuclear preparedness.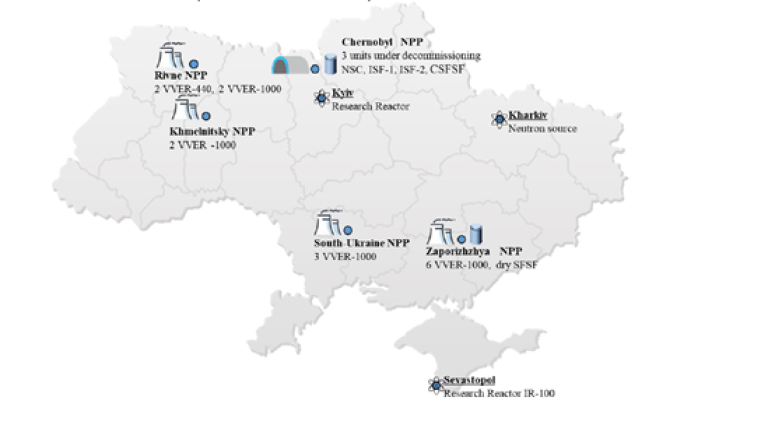 Information on the status of the nuclear power plants in Ukraine can be found on the website of the Nuclear Safety Authority of Ukraine (SNRIU)
Norwegian nuclear preparedness
Norway has bilateral warning agreements with Ukraine and all our neighboring countries and is a party to the international conventions on early warning and assistance in the event of a nuclear accident. DSA is a national and international alert point with standing alert 24/7 and we continuously monitor the situation in Ukraine.
As part of the Norwegian nuclear preparedness, we have our own warning and monitoring systems that would detect radioactive pollution in the air over Norway. We also have access to measurement data across Europe through European agreements.
Norway's nuclear preparedness is built around the Crisis Committee for Nuclear Preparedness. DSA heads the Crisis Committee, which is a civil-military body with special powers to decide on measures at an early stage to protect life, health, the environment and other societal interests, cf. the Royal Resolution of 2013. Other members are the Norwegian Directorate of Health, the Norwegian Police, the Norwegian Directorate for Civil Protection and emergency preparedness, the Norwegian Food Safety Authority, the Armed Forces, the Norwegian Coastal Administration and the Ministry of Foreign Affairs.
The state administrators, and the Governor of Svalbard, are the Crisis Committee's regional partners that will ensure coordinated and coordinated measures in the county. 14 agencies from the research, institute and directorate sectors are affiliated with the Crisis Committee as professional advisers.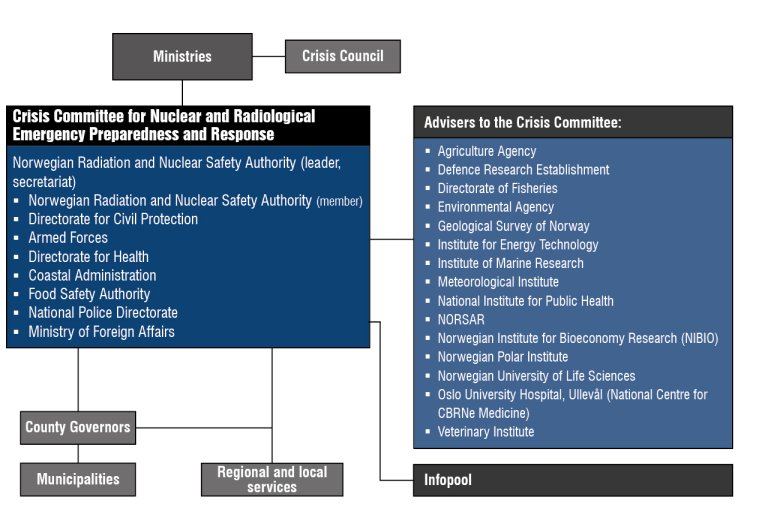 Organization of the Crisis Committee for Nuclear Preparedness
In addition, DSA has authorizations for handling acute radioactive pollution and contamination in accordance with the Pollution Control Act.
Read more about Norwegian nuclear preparedness (link in Norwegian)
Information about iodine tablets
We get many inquiries from worried people who are wondering if they need to take iodine tablets as a result of the situation in Ukraine. Due to the large geographical distance, it is very unlikely that it will be necessary to take iodine tablets in Norway.
If there is a serious nuclear accident at one of Ukraine's operational nuclear power plants and the wind blows towards Norway, then there may be radioactive fallout over Norwegian areas. It may then be necessary to implement other measures to protect health, environmental and societal interests.
Irrespective of the situation in Ukraine, the DSA recommends that everyone under the age of 40 have iodine tablets stored at home. The main reason is that nuclear powered submarines and other vessels regularly travel along the Norwegian coast. In the event of a serious accident with one of these, iodine tablets may be necessary in Norway, especially for children and young people under the age of 18, and women who are pregnant or breastfeeding. In the event of very serious accidents, adults under the age of 40 may also be advised to take iodine tablets.
Read more about iodine tablets here (link in Norwegian)
Norwegian commitment to nuclear safety in Ukraine
Norwegian co-operation with Ukraine on nuclear safety was initiated after the Chernobyl accident in 1986. The accident hit Ukraine hard. The radioactive release also spread to Norway.
New information on nuclear waste following the dissolution of the Soviet Union in 1991 and the experience following the Chernobyl accident contributed to the government drawing up an action plan for nuclear safety and the environment in 1995 (the Nuclear Action Plan).
Norway and Ukraine signed a bilateral agreement on early warning of nuclear accidents in 1994, which was subsequently expanded and strengthened and re-signed in December 2020.
After the dissolution of the Soviet Union in 1991, there were large quantities of nuclear weapons left in Ukraine. Through a separate agreement (Budapest Memorandum from 1994) with Russia, the United States and the United Kingdom, Ukraine agreed to surrender its nuclear weapons to Russia in return for assurances recognizing Ukraine's sovereignty.
During the Nuclear Security Summit in The Hague in March 2014, the then Prime Minister Solberg gave assurances that Norway would provide comprehensive support to Ukraine to contribute to increased nuclear security. Since then, the Ukrainian projects have received about 130 million kroner over the nuclear action plan related to:
Cooperation between radiation protection authorities
Prevention of smuggling of nuclear and radioactive material
Measures at nuclear power plants to reduce the risk of accidents and physical safety
Cooperation on nuclear preparedness
Measures to improve the situation with radioactive waste and radioactive sources
Through concrete projects, cooperation with Ukraine has contributed to increased nuclear security in the country. The extensive network that has been established enables the Norwegian authorities to better obtain fast and quality-assured information in the event of specific incidents or rumours of accidents and pollution. This is also be important in an emergency situation.
Read more about the Nuclear Action Plan